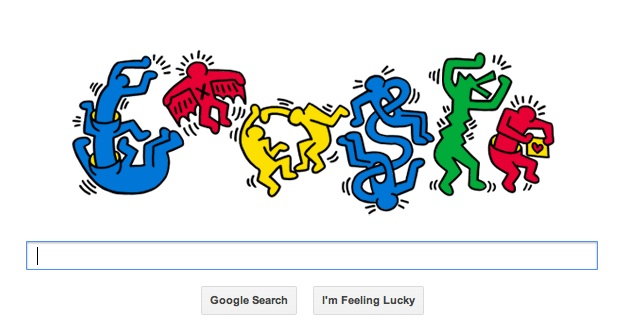 GOOGLE

most important noticed work is doodles. Because Google take care of us to know about history also due to rapid work ,no time, no book reading ,so Google dynamically view a 360

EYE TOWARDS WORLD AND FRAME THEIR DOODLES WITH MOST VALUABLES PERSONS WORK

on their search tab .Today important person in search tab is

"KEITH HARING"
WHO IS THAT KEITH HARING
In early New York 1980's no one take care of street places every thing full of normal looks and looks like a funeral look there is no colors. But at the time great man who started his imagination and bring out his imagination horse to ride up his art work on New York city street by a Famous person we are all well known about

"KEITH HARING"

to play his work at New York street .
RAISE UP TIME:
The great artist raise his head at may 4 1958 at Pennsylvania, and was raised in nearby Kutztown.But during his child hood he start thinking about cartoons and art works.
HIS INSPIRATIONS:
Haring was also inspired by the work of

Jean Dubuffet, Pierre Alechinsky, William Burroughs, Brion Gysin and Robert Henri's

manifesto The Art Spirit, which asserted the fundamental independence of the artist.
HIS SYMBOL:
RADIANT BABY
Radiant bay his famous symbol world never forget those symbol
SADNESS DAY:
At the time of 1988 Keith haring was diagnosed by AIDS and after he start his work turned into social activities on

1989, he established the Keith Haring Foundation and made public notice about the

MOST TERRIBLE DISEASE "AIDS" ,

He lively made awareness about the illness of AIDS .

Keith Haring died of AIDS related complications at the age of 31 on February 16, 1990. And he passed away.
Madonna declared the first New York date of her Blond Ambition World Tour a benefit concert for Haring's memory, and donated all proceeds from her ticket sales to AIDS charities.
RED HOT ORGANISATION WORK :
Organisation main motto is to raise up money and give to charity to awareness to fight the onslaught of HIV/AIDS.
THEIR
MAJOR RELEASE ALBUM
Red Hot + Blue

Red Hot + Dance